Lighting Manufacture
We are the ONLY MEP contractor with a lighting manufacture division in the UK achieving exceptional quality with minimal carbon footprint and no complex supply chain.
79lighting manufactures and supplies lighting for clients across a wide spectrum of sectors including commercial office, banking, distribution centres, retail, education, hospitality and leisure.  
We combine technical excellence with a focus on sustainability to help clients reduce energy consumption and improve their return on investment. 
As lighting and luminaire design develops into focusing on environments which enhance the occupant well being and efficiency, 79lighting's portfolio of luminaires and controls provide options to achieve Human Centric Lighting (HCL) and can provide energy savings of up to 55%. 
We work closely with clients and advise on their lighting decisions introducing them to controls which can be used in a lighting upgrade and within an existing electrical installation.  This reduces the cost of the upgrade and enables the new lighting design options to apply the principles of Human Centric Lighting and the benefits this brings to the occupants lit environment. 
79lighting's products are designed to the highest standards, including an environmental life cycle assessment for lighting control and energy efficiency exceeding the current requirements of the Carbon Trust ETL listings and current standards and regulations for lighting performance. 
Being environmentally responsible in the supply chain is increasingly important for organisations in every sector. The 79group treads lightly, doing everything we can to reduce our impact on the environment and to help our clients reduce theirs. We have taken proactive steps to:
Use renewable energy resources
Design products to be energy and light efficient
Reduce transport and packaging
Minimise waste
Design and manufacture to ISO 9001
Members of Electrolink - registration no. WEE/MM2673AA
Manufacture to BS EN 60598
Ensure our light fittings are CE marked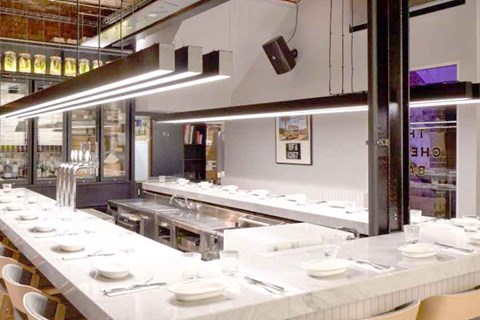 Explore our Enlightened Environments
We design, install and maintain lighting and MEP for clients across a wide spectrum of sectors, including retail, office, banking, factory, education and hospitality and leisure.
Why 79 Group?
79 Group is one of the UK's leading experts in fully integrated, end-to-end lighting and MEP, design, supply and installation for professional environments.
We believe in the transformative power of brilliant environments, the increasing importance of sustainability and the critical role that they both play in improving the performance of your business.
Find Out More
I've worked with Owen for a number of years and he and the team behind him have continually performed and led the way in offering creative solutions to problems, but also offering solutions that are commercial. I would highly recommend Owen personally and The 79group as a perfect partner for any retail business looking to get more from their lighting and electrical support team.
Enhanced Capital Allowance – claim current rate of corporation tax.
We are experts in complying with ECA requirements that can deliver impressive savings in both tax relief and maintenance costs.
Find out more
Discover how we can enlighten your environment.
We believe in the transformative power of brilliant environments, the increasing importance of sustainability and the critical role they both play in improving performance. Find out how we can transform your environment today.